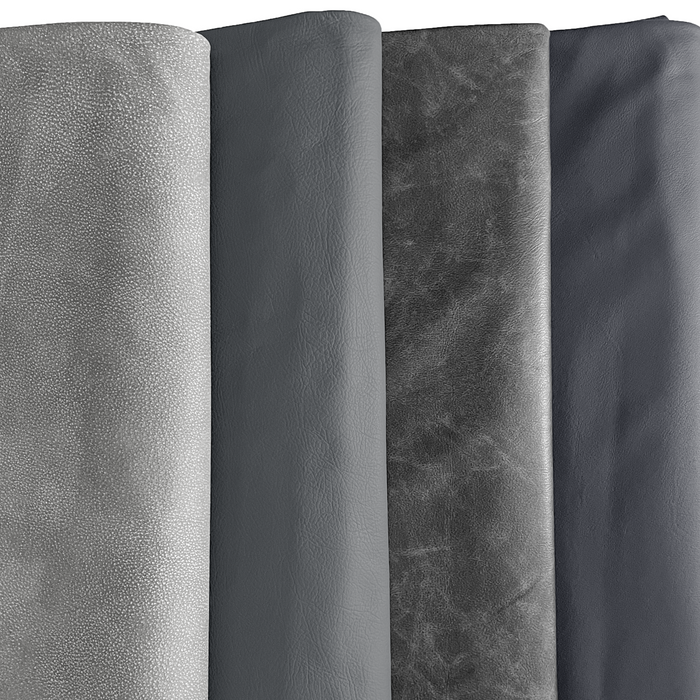 Grey Assorted Whole Hide - Clearance
This fabulous collection of Grey leather whole hides were specially crafted for upholstery use. But guess what? They're not just limited to upholstery! These versatile beauties are also perfect for chaps, garments, and bags.

Each hide in this collection has its own personality, with varying color shades, thickness, finishes, and hand feel. Not all available colors and finishes are pictured, so there's a world of surprises waiting for you!

If you decide to purchase multiple items from this collection, you may receive leather with a similar finish and texture, or you might even receive an assortment, adding even more excitement to your order!

Please note that the leather in this collection is subject to availability. We strive to offer the best selection, but unfortunately, we're unable to accommodate special requests at this time. However, we guarantee that you'll receive a top-notch piece that you'll fall in love with!

So, step into our world of leather wonders, embrace the uniqueness of each hide, and get ready to create something extraordinary. Place your order today and let the creativity flow!
Thickness: 2oz-4oz (0.8mm-1.6mm)
Average Size: 40sq ft.-50sq ft.
Chrome Tanned
*Some hides will be Brahma hides, a hole in the neck area is common and unavoidable.